Bologna Art Hotels TREKKING IN THE HISTORICAL PARK OF MONTE SOLE
Erleben Sie die besten Aktivitäten in Bologna Art Hotels, Bologna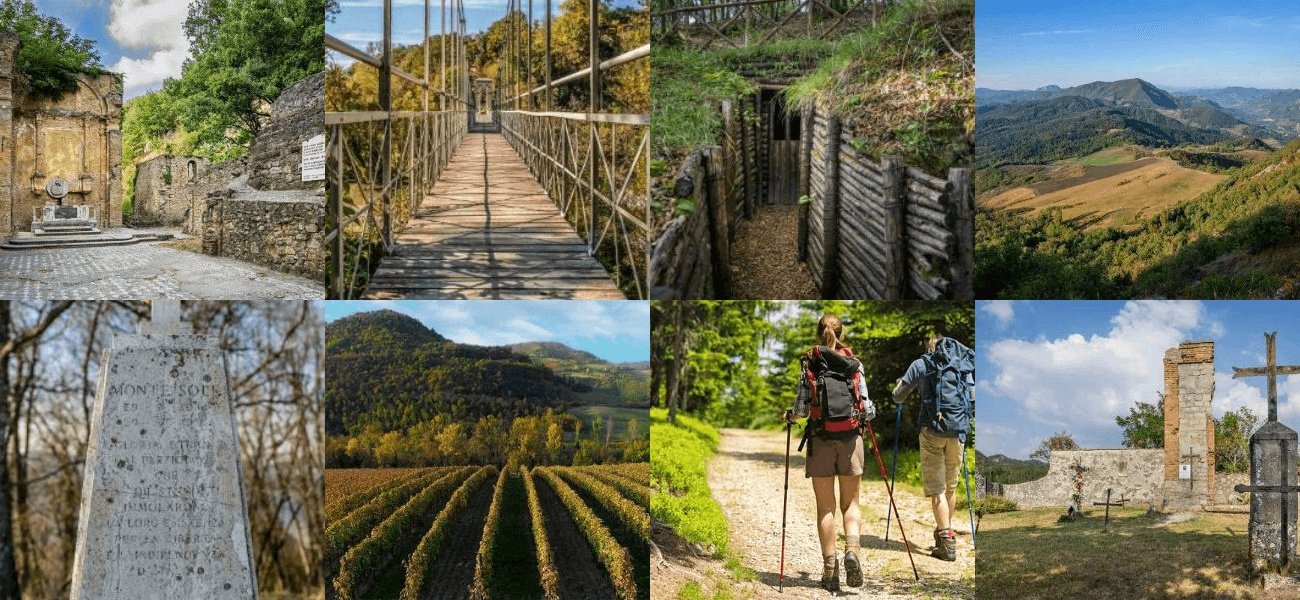 TREKKING IN THE HISTORICAL PARK OF MONTE SOLE
You will cross the river on an old suspension bridge. You will follow a country road that will take you to an ancient Romanesque church. You will ascend along fields and vineyards to the top of the mountain, from which you can enjoy a splendid panorama. You will walk among woods, abandoned villages and suggestive places of memory. A trek that will make you live a day in the open air amidst the charm of history and the wonder of nature, accompanied by an expert environmental hiking guide who will tell you the secrets of these places. We will depart from the center of Bologna, where we will meet our guide who will accompany us throughout the day. With a short train journey we will reach Marzabotto, where we will begin our trek. Walking along the old walkway on the Reno River, we will enter the territory of the Parco di Monte Sole, in an environment rich in history and of incredible naturalistic interest. We will walk along a road lined with woods and cultivated fields until we reach the ancient parish church of San Lorenzo di Panico, a majestic example of Romanesque architecture from the 12th century. We will pass by farms, vineyards, country houses and old churches until we reach the ridge: from here we will have a 360 ° view of the valleys of the Reno and Setta fumes. We will then continue towards Monte Sole, along a particularly scenic path completely immersed in nature. We will climb up to the top of the mountain, where we will find the memorial stone in memory of the partisan Brigade Stella Rossa and his famous commander Lupo, who fought the Liberation war between these mountains. At our feet we will have a suggestive view of the whole Apennines. Once we get off, we can visit the main places of the Memorial: old villages, churches and cemeteries that became famous because of the massacre carried out in the autumn of 1944. In the shade of an old oak tree we will enjoy a well-deserved packed lunch with local products that will allow us to rest and admire the beautiful nature around us. We will descend to the valley along the "path of the Postino", dedicated to the man who used to walk through it during the war to bring the mail to the various villages. We will thus reach the small village of Sperticano, from which we will be able to reach the nearby train station and return to Bologna, after a day in contact with nature that will leave us with so many emotions to remember.

Departure from the center of Bologna
Meeting at Enjoy Appennino
Via Indipendenza 71 m / n
Map
Departure: 8:30 am
Lunch: 1.00 pm
Return: 5.30 pm
Included
Train A / R Bologna - Marzabotto;
Environmental Guide for Hiking;
Packed lunch with local specialties, fruit, energy and drinks;
Liability insurance and taxes.
Calendar
Tour available on Saturday or Sunday, on the days proposed on our website; departures at other dates programmable on request.
Language
Italian
English
Other languages on request


Bologna Art Hotels services:
- Accommodation
- Rich Buffet Breakfast
- Internet navigation (wireless connection in all rooms)
- Free use of hotel bycicles

On request, the following services can be provided:
- Round transport from and to the Airport G. Marconi of Bologna
- Bus city tour with City Red Bus
- Special city guided tours (Bologna's Towers, shopping, Gourmet tour, etc.)

Information and bookings:
- Phone +39 051 7457338 – E-mail info@arthotels.it
- Click on BOOK NOW and select the Hotel and the room You prefer.
-How to reach us – City Map

We are waiting for you in Bologna! Kind regards, Piter.

Promotion subjected to availability of the services offered.