Bologna Art Hotels TREKKING ON BOLOGNA HILLS
Erleben Sie die besten Aktivitäten in Bologna Art Hotels, Bologna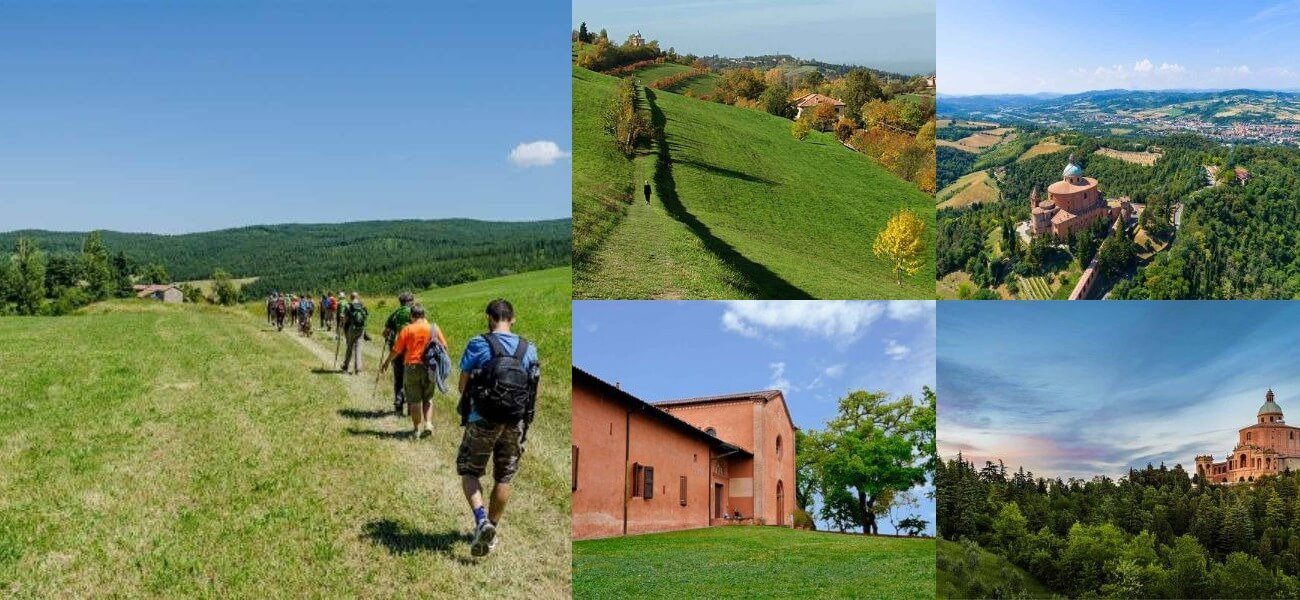 TREKKING ON BOLOGNA HILLS
An easy and suitable excursion that will take you to the discovery of the Bolognese hills, accompanied by an Excursion Environmental Guide. A walk from the center of Bologna towards the hills, which will allow you to discover the marvelous nature just a stone's throw from the city and will excite you with a breathtaking view. A day of physical activity that does not renounce to the pleasures of the table: an excellent lunch with tasting of Bolognese specialties, in a splendid inn overlooking the city, will complete this open-air itinerary. An excursion from the city center to its hills, wild and not very urbanized. From via Indipendenza we will cross Piazza Maggiore and via D'Azeglio, towards Porta San Mamolo, to reach the beginning of the ascent of the Osservanza. Once at the top of the hill of the same name, a splendid panorama of Bologna, the red city, will open below us. We will then discover the park of Villa Ghigi, home to an important Foundation dedicated to environmental education and green lung, which is particularly interesting from a cultural and botanical point of view. With Bologna now at our feet, we will stop at an inn with a splendid view of the city, where we will be able to have lunch with culinary specialties of the Emilian tradition and enjoy a pleasant moment of relaxation. From here we will move towards the nearby Hermitage of Ronzano, a hermitage since ancient times and very particular for unusual botanical presence, such as chestnut and olive trees. The journey will continue towards the hill of Gaibola, where it will be possible to see one of the various chalky testimonies of the Bolognese hill: a place of history for the excavation of building material for the city and protected area. The return to the city will take place via San Mamolo, retracing via D'Azeglio, until arriving in Piazza Maggiore. It is necessary to have suitable boots, a backpack with water, an anorak and a heavy garment.

Departure from the center of Bologna
Meeting at Enjoy Appennino
Via Indipendenza 71 m / n
Map
Departure: 10:00 am
Lunch: 12:30
Return: 5.30 pm
Included
Environmental Guide for Hiking;
Complete lunch at the inn with local specialties and drinks;
Liability insurance and taxes.
Calendar
Tour available on the days proposed on our website; departures at other dates programmable on request.
Language
Italian
English
Other languages on request


Bologna Art Hotels services:
- Accommodation
- Rich Buffet Breakfast
- Internet navigation (wireless connection in all rooms)
- Free use of hotel bycicles

On request, the following services can be provided:
- Round transport from and to the Airport G. Marconi of Bologna
- Bus city tour with City Red Bus
- Special city guided tours (Bologna's Towers, shopping, Gourmet tour, etc.)

Information and bookings:
- Phone +39 051 7457338 – E-mail info@arthotels.it
- Click on BOOK NOW and select the Hotel and the room You prefer.
-How to reach us – City Map

We are waiting for you in Bologna! Kind regards, Piter.

Promotion subjected to availability of the services offered.