Bologna Art Hotels TREKKING ON APENNINE PATHS
Erleben Sie die besten Aktivitäten in Bologna Art Hotels, Bologna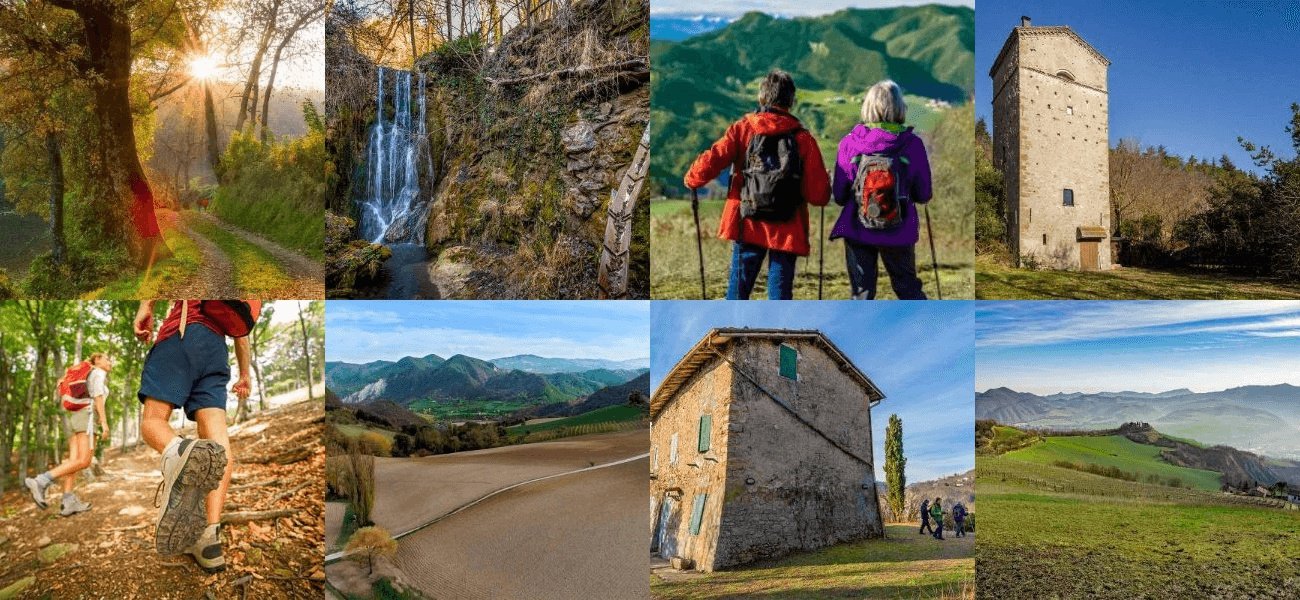 TREKKING ON APENNINE PATHS
A day in the open air that will allow you to get in touch with the most authentic Apennines: old mule tracks and mountain paths, cultivated fields and woods, medieval villages and tower houses, streams and waterfalls. You will walk along a varied and suitable route for everyone, crossing a nature of great beauty where you will find the testimonies of the rural civilization that for centuries has animated these mountains: old farmhouses, ancient water mills, small votive chapels and farms. At lunch you can taste typical local products. After meeting our guide at our headquarters in the center of Bologna, we will take the train that will take us to the first Appennino Bolognese in half an hour. We will cross the center of the village of Marzabotto, where we will be able to see the memorials of the events that occurred during the Second World War. We will start walking, climbing the hills that dominate the country. We will pass cultivated fields and vineyards until we reach the ridge, from where we will have a splendid view of the Reno Valley. We will cross farms and rural farmhouses, we will travel along CAI paths through oak woods and we will pass by ancient medieval villages, characterized by the presence of towers, architectural peculiarity of these areas. We will then reach a vantage point where, in the shade of large trees, we will be able to rest and enjoy a relaxing moment enjoying a packed lunch with excellent local products. We will then descend towards the valley following the course of the stream. We will meet other villages, lakes, waterfalls and the ancient water mills that milled the cereals processed by the farmers of these valleys. We will end our trek in Lama di Reno, where we will be able to admire the murals made on the buildings of the old industrial establishments, before taking the train that will take us back to Bologna.

Departure from the center of Bologna
Meeting at Enjoy Appennino
Via Indipendenza 71 m / n
Map < strong>
Departure: 8:30 am
Lunch: 1.00 pm
Return: 4.30 pm
Included
Train A / R Bologna - Marzabotto;
Environmental Guide for Hiking;
Packed lunch with local products, fruit, energy and drinks;
Liability insurance and taxes.
Calendar
Tour available on Saturday or Sunday, on the days proposed on our website; departures at other dates programmable on request.
Language
Italian
English
Other languages on request


Bologna Art Hotels services:
- Accommodation
- Rich Buffet Breakfast
- Internet navigation (wireless connection in all rooms)
- Free use of hotel bycicles

On request, the following services can be provided:
- Round transport from and to the Airport G. Marconi of Bologna
- Bus city tour with City Red Bus
- Special city guided tours (Bologna's Towers, shopping, Gourmet tour, etc.)

Information and bookings:
- Phone +39 051 7457338 – E-mail info@arthotels.it
- Click on BOOK NOW and select the Hotel and the room You prefer.
-How to reach us – City Map

We are waiting for you in Bologna! Kind regards, Piter.

Promotion subjected to availability of the services offered.